Inveterate propaganda pimps and shameless liars.
At Michelle Malkin's, "
Debunking the Blame Righty propagandists…again
":
Here we go again. Liberal media outlets CNN and MSNBC have joined forces with the biased, numbers-cooking Southern Poverty Law Center and New America Foundation to foment renewed fear and hatred of conservative Americans.

Their latest talking point: "Right-wing" terrorists have caused more American deaths than Islamic jihadists since 9/11.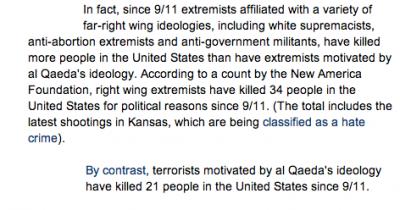 CNN ran with the "story" first. MSNBC's Rachel Maddow hopped on the bandwagon tonight and the Blame Righty echo chamber is whipping up another witch-hunt frenzy.

According to these divisive and demagogic fear-mongers, "right-wingers" have killed 34 people since 9/11 for "political reasons," including the three innocent victims of last week's Kansas City Jewish community center shootings, while jihadists have killed 21. MSNBC and CNN viewers are eating it all up with ghoulish enthusiasm. It's the Obama DHS right-wing terrorism report all over again.

A closer look at the rigging of this latest phony factoid simply confirms the malevolent intention of so-called objective journalists to marginalize conservative political speech and dissent. And it confirms once again the corruption of purportedly objective "hate watch" groups, which are staffed and supported by progressives bent on criminalizing their opponents out of the public square.

Let's start with the terror toll count date. Carving out the 2,997-person death toll from the 9/11 jihadist attacks is a rather convenient way to rig the scales, isn't it? Only if we close our eyes and pretend away the bloodiest terrorist attack on American soil perpetrated by Islamic murderers is it possible to promote the Left's moral equivalency on who our real enemies are.

Once you whitewash 9/11 out of your calculations, the rest of the smear job is easy-peasy. As usual, it involves dishonest inflating of "right-wing" incidents and dishonest deflating of left-wing and jihadist incidents.

The conservatives-are-worse-than-jihadists casualty data, for example, counts Holocaust Museum shooter James Von Brunn, who killed a heroic security guard, as a "right-winger." As I've pointed out before, Von Brunn was neither "left" nor "right." He was a rage-filled maniac and 9/11 truther who hated Fox News and Rupert Murdoch.

Also counted as "right-wing" in the CNN/MSNBC/SPLC data: Andrew Joseph Stack. He's the lunatic who flew a small plane into an Austin, Texas, office complex that contained an Internal Revenue Service office in 2010. He injured several people and killed himself. Within minutes of the story breaking, a furious left-wing blogger at the popular Daily Kos website — where countless Democratic leaders have guest-posted — fumed: "Teabagger terrorist attack on IRS building." The article immediately cast blame on the anti-tax Tea Party movement: "After months of threats on the United States government, and government institutions, the Anti-Government forces known as the teabaggers have struck with their first 911 (sic) inspired terrorist attack." But as I reported at the time, Stack's ranting suicide manifesto:


…targeted "puppet" George W. Bush, murderous health care insurers and the pharmaceutical industry.

The "manifesto" ended:

The communist creed: From each according to his ability, to each according to his need.

The capitalist creed: From each according to his gullibility, to each according to his greed.

*****

The dishonesty of violence-politicizing leftists — once again forcing Americans of good will to defend themselves against conniving "hate watch" haters — is beyond sickening. It's evil.
Read it all at that top link.
And yes, they're evil, to the core.
RELATED
: "
The Democrat Party's Racial Regression
."
Never forget: the Democrats are the party of hate.